Studio apartment Torviscas (Sleeps 2)
Santa Maria is one of four aparthotels named after Columbus' fleet which is thought to have set sail on the voyage of American discovery from this section of Tenerife's coastline. A short walk away is Puerto Colon [again named for Columbus]. This is now an upmarket Marina. Though it is an ideal place to moor your luxury yacht, it is more likely that for most of us it would be the start of an excursion to see the whales and dolphins, which inhabit the deep waters 30 minutes off Tenerife's coast. As you approach the port, which is only 5 mins from Santa Maria, you will pass a bewildering array of Perfect Corum Bridge Replica Watches restaurants and shops. Everything from an American themed diner; "Harleys"; British run Fish 'n Chip shops; to exclusive and expensive seafood establishments at the top of the old port with great sea views. All will be substantially easier on the pocket than eating out at home. The shops demonstrate a similar diversity; from designer wear to bargain bazaars.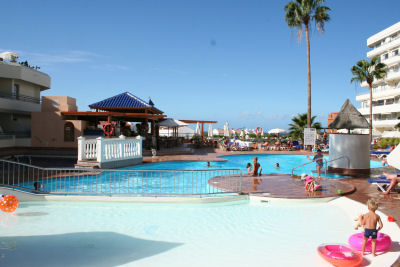 In addition to the sheltered beach, adjacent to Puerto Colon, which is ideal for toddlers and younger children. The large Torviscas Playa stretches for 3 km. The water sports on offer include: jet skiing, paragliding, power boat rides etc.
To sum up: the hotel is modern and comfortable; an ideal choice for a couple or small family looking for a relaxing Winter break. The large pool has a bar and is surrounded by an ample sunbathing terrace area. In addition there is a lounge bar and a welcoming "A La Carte" restaurant. As well as the games room the hotel also has onsite tennis courts which are payable for locally. Internet access and computers are also available for hire.
Enquiries please phone 07789 006767